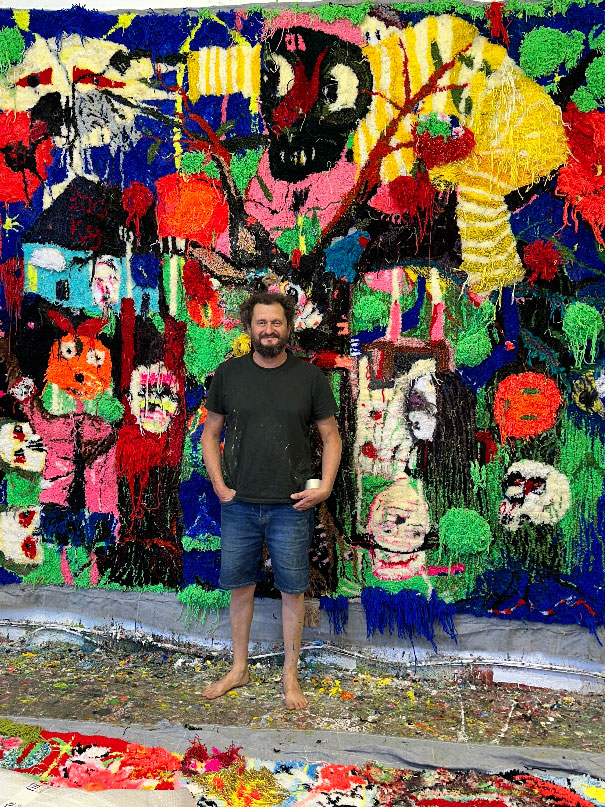 Marik Lechner on the backround of the tapestry Night Fruit Picking, photo by Lili Almog

Opening night October 19th, 2023


OCT 19 – NOV 25 L'SPACE Gallery

524 W 19th St, New York, NY 10011
My first recollection of making art is when I made a woodcut of a deer during a handicraft lesson at school, when I was around ten years old. I still remember the strangeness of it, as if my hands were out of my control, working on their own. When I saw the finished work, I was so surprised and proud; it was pure joy. After that, I just wanted to recreate that experience as often as I could and to this day I still feel the same strangeness while I work, as if someone else takes the lead.  
We were an immigrant family, living in a small apartment in a beach town in Israel, very close to the Lebanon border. My parents were focused on survival: money and practicalities were the big issues, and cultivating my talent was not top of the list. I had to be creative in finding where and when to work, so I broke into – and painted in – bomb shelters. The neighbors complained and threw me and my paintings out many times, but I found my way back in. And thus working became entangled in my mind with a sense of urgency, isolation, autonomy; with naked walls, emptiness and danger.
Growing up in a small provincial town, I was starved for intellectual stimulation. I read a lot of books and watched art documentaries for hours on the only channel that broadcast them at the time. The programs focused on the great art masters – Goya, Van Gogh, Monet, Picasso, Munch, Bacon and so on – and they usually didn't go further than the mid-twentieth century, but for me these films were the big wide art world.
Later, I did some catching up on my own. I was an autodidact and I consumed pretty much everything I could find. In my early twenties, I felt a strong connection to German Expressionism. When I saw works by Kirchner, Nolde, Beckmann and Dix, I felt as if they had a direct line to my soul: the intensity of the colors, the brutality, the vulnerability and trauma.
Something of that has lingered and become a part of my artistic language. All my works, irrespective of the medium (oil, watercolor, needlework or tapestry) are expressive, with intense color palettes. But it goes deeper than that. German Expressionism's representation of the human experience is direct and honest. Humanity isn't flattered, and there is no place for hygiene or politeness, no idealization of life or art. I believe deeply in these artistic values and try to act upon them and express them in my works.
Perhaps it is not surprising then that many of my works have a streak of morbidity and depict mummies and body parts. I have a great fondness for monsters and other hellish creatures, some of which have become constant companions and reappear in my work over the years. It isn't something that I plan. Most of the time, the work gives birth to the idea and not the other way round. Maybe that is why it is hard for me to see my works as finished. I keep coming back to oil paintings, even after they have been exhibited, and often I paint a completely new painting on top of an old one. Many of my works are fleshy, with all their past trials hidden under the surface. I like it when a painting has arteries, veins and flesh that suggest the presence of inaccessible memories.
Following my formal art studies I left for Europe and ended up living and teaching for several years in Hamburg and Berlin. There, I was introduced to the work of contemporary painters such as Neo Rauch, Tal R, Cecily Brown, Nicole Eisenman, Daniel Richter, Jonathan Meese and Dana Schutz. Each of them has left a mark on my work, together with others that I haven't named (the list is long).
 As well as art, nature has been my greatest passion and inspiration. I feel towards nature a pure and insatiable curiosity. In my works, it isn't nice or pleasant; its beauty is too grand for that. It is a place with no mental leisure for culture, a place where I deal with my limitation as a cultured human being.
Nowadays, I live and work in my studio in the Central District of Israel. Because of my intensive work on tapestries in the last three years, there is wool everywhere: a treasure trove for my cats. The studio is isolated, quiet; the structure is improvised and nature is very dominant. It is perfect for my needs. My hunger for intellectual stimulation and sources of inspiration is still as prominent as when I was young – so I tend to gobble up everything I see while walking in the street. I read books on all sorts of subjects; see exhibitions; watch films and TV series. I am an avid fan, among other things, of horror and science fiction.